When it comes to hiring in 2023, using the best video interview software is essential. After all, video interviewing is now an integral part of the hiring process, and the COVID-19 pandemic has accelerated its adoption.
According to a recent survey, 86% of companies now use video interviews to evaluate job candidates. Video interview software is crucial because it enables hiring managers to assess candidates remotely, which is particularly important in today's world of remote work and social distancing. It also saves time and resources, as it eliminates the need for in-person interviews and can be used to screen top talent quickly.
As we move further into 2023, it's clear that video interviewing is here to stay, and with so many platforms available, it can take time to decide which one to choose.
In this article, we'll explore the six best video interviewing tools of 2023 and what makes them stand out from the competition.
The Best Six Video Interview Platforms
Here are some of the best video interview platforms to use: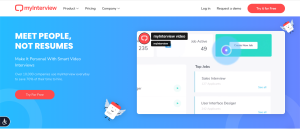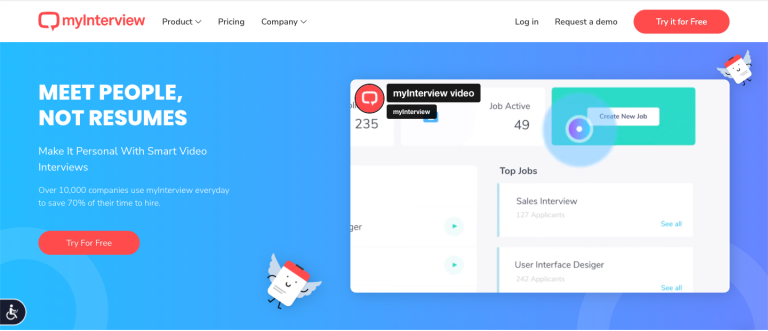 Founded in 2016 by two friends who wanted to create a more personal and efficient way of assessing job applicants and hiring, myInterview is a one-way video interview platform. You can further meet the shortlisted candidates for a live interview as well.

You can either choose from a library of questions or create your own. You can also customize the settings, such as time limit, retries, and branding.

myInterview prompts you to fill out a simple form to create your job.

After you fill in those details, you can create and send video interview questions to job seekers, who can record and submit their answers online.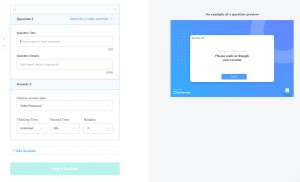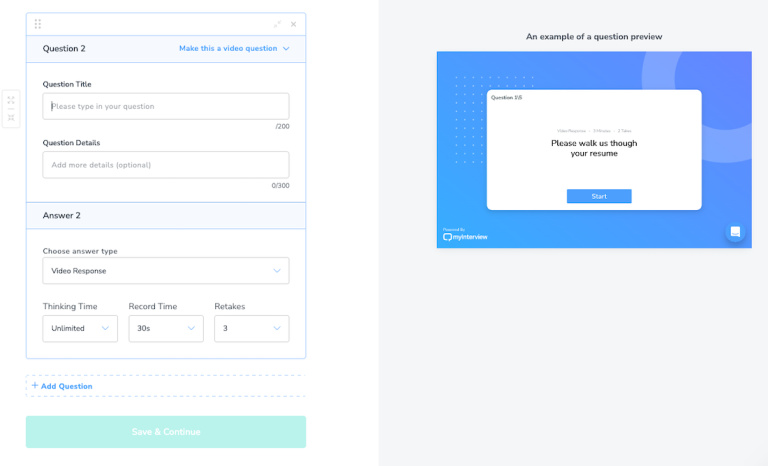 Next, myInterview will allow you to brand your interview by adding your logo, custom colors, images, or background.
Additionally, you can include an introductory video by recording it, linking it via Vimeo, YouTube, or Dropbox, or even uploading a pre-existing video from your computer.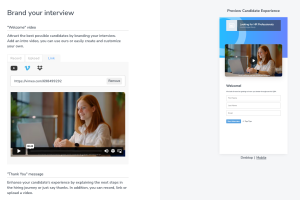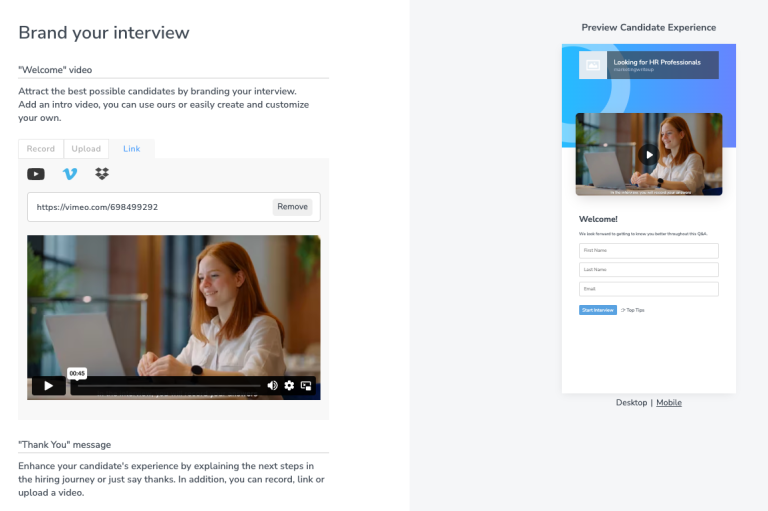 Finally, you can invite candidates to the job interview and review their videos right inside myInterview's dashboard.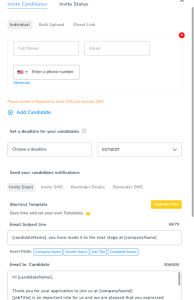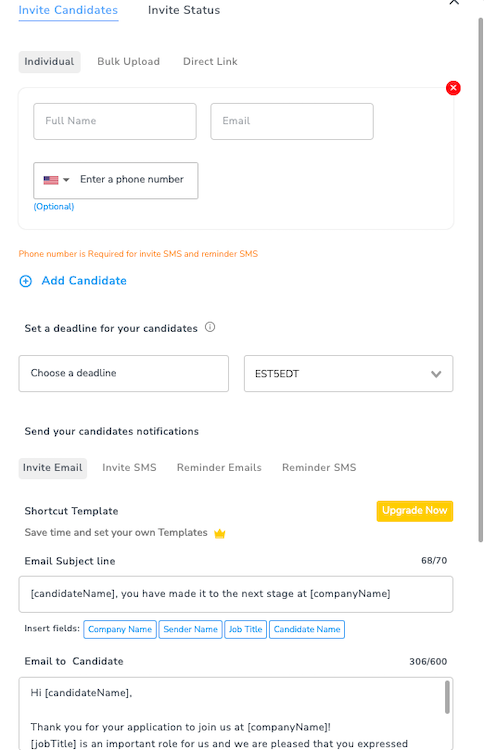 Once candidates start sending their videos answering interview questions, recruiters can watch and evaluate the candidates' videos using artificial intelligence and collaboration tools.
For example, the myInterview Intelligence feature uses artificial intelligence to rank candidates based on their video responses.
They also offer features like automated shortlisting, curated interview playlists, and bias-free assessment Interviews.
Shortlisting is also easy, thanks to custom Kanban columns to help you track a candidate's stage. You can set your workflow to match your company's hiring stages and customize columns into shortlisted, rejects, approved, etc.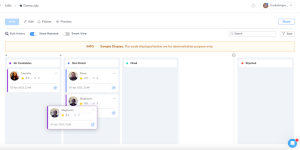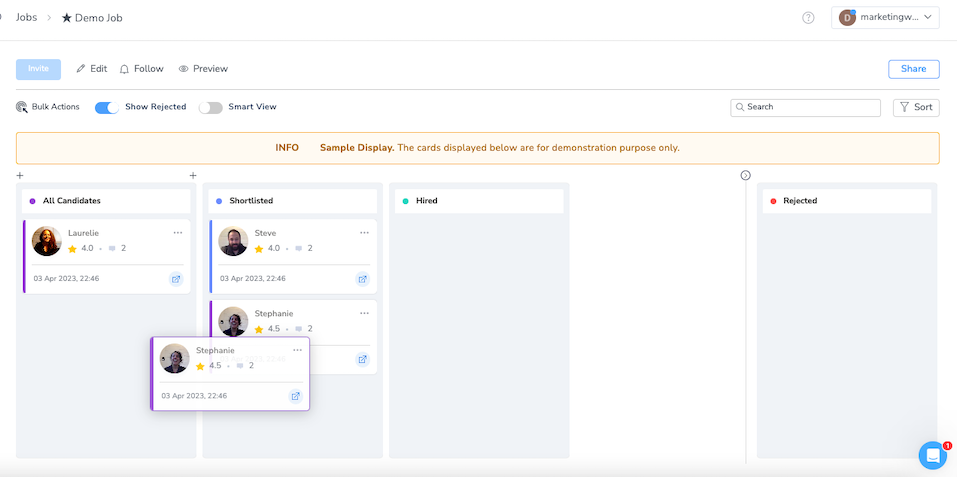 All these features combined can help recruiters save time and money, screen more candidates, and find the best fit for their company and culture.
Here's a quick overview of myInterview's key features:
Invite candidates:

Recruiters can invite candidates to take the video interview by sending them a link via email or SMS. Candidates can access the interview on any device with a camera and microphone.

Review candidates:

Recruiters can review candidates' videos on an intuitive dashboard that shows their scores, rankings, and feedback. They can also share the videos with other team members or clients for collaboration.

Hire candidates:

Recruiters can hire candidates by contacting them directly from the platform or through their ATS or workflow system.
All in all, myInterview is suitable for recruiters who want to save time and reduce the risk of bias in their hiring process. It's also suitable for candidates who wish to express themselves beyond their resumes and showcase their personality and fit for the company culture.
That said, there may be better options for recruiters who prefer live or face-to-face interviews.
Pros:
Integration with other platforms such as Indeed, Workable, and Zapier.

It offers a free plan with ten candidates per month and affordable pricing plans for different needs and sizes of businesses.

The dashboard has smart shortlisting options, allowing you to filter, sort, and rank candidates by various criteria. It's also easy to use, intuitive and customizable with your branding and intro video.
Cons:
It may not capture the full range of candidates' skills and abilities, especially for technical or creative roles that require more than verbal communication or problem-solving.

Limited customization options for branding and user experience. This can be a drawback for companies looking to create a more personalized candidate experience.

Limited reporting and analytics capabilities can make it difficult for recruiters to track their recruitment campaigns' success and identify improvement areas.
Pricing:
myInterview offers annual billing options and the pricing depends on the number of candidates per month. The pricing plans are:
Starter –

Free forever with ten candidates per month and one active job.

Individual –

$99/month with unlimited candidates per month and two active jobs.
Professional – Custom plans with custom candidates per month and custom active jobs.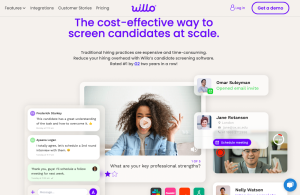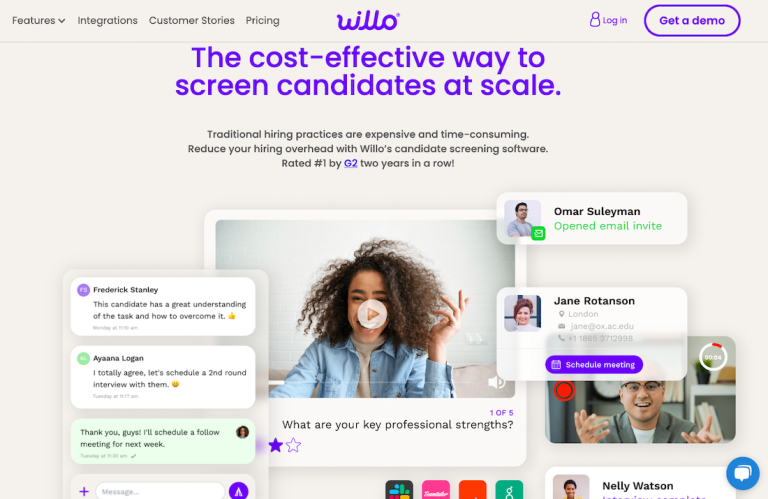 Willo is another asynchronous video interview platform that allows candidates to record their interview answers at a convenient time rather than having to schedule a live video interview. This makes the process more flexible and convenient for both candidates and hiring managers.
You can add different question types, including video, audio, text-based, and file uploads. You can also assign a specific number of retakes and answer length.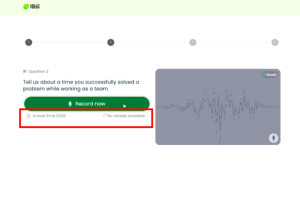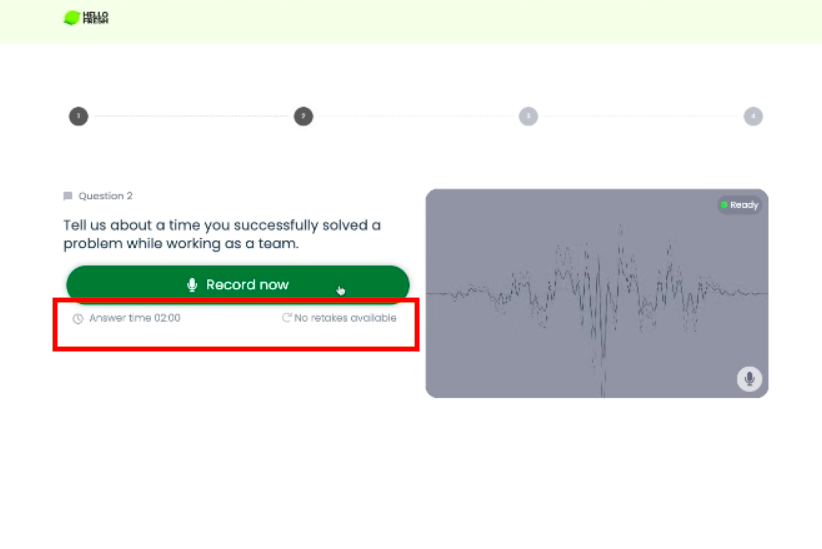 Another unique feature of Willo is its ability to integrate with other HR tools, such as applicant tracking systems (ATS) and job boards. This allows hiring teams to streamline their recruitment process and manage everything from one place.
Additionally, recruiters can evaluate and manage candidates in a Kanban-like dashboard and get an overview of their complete hiring process.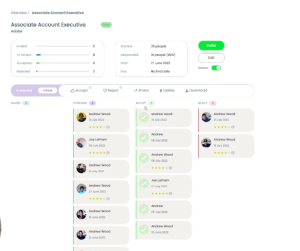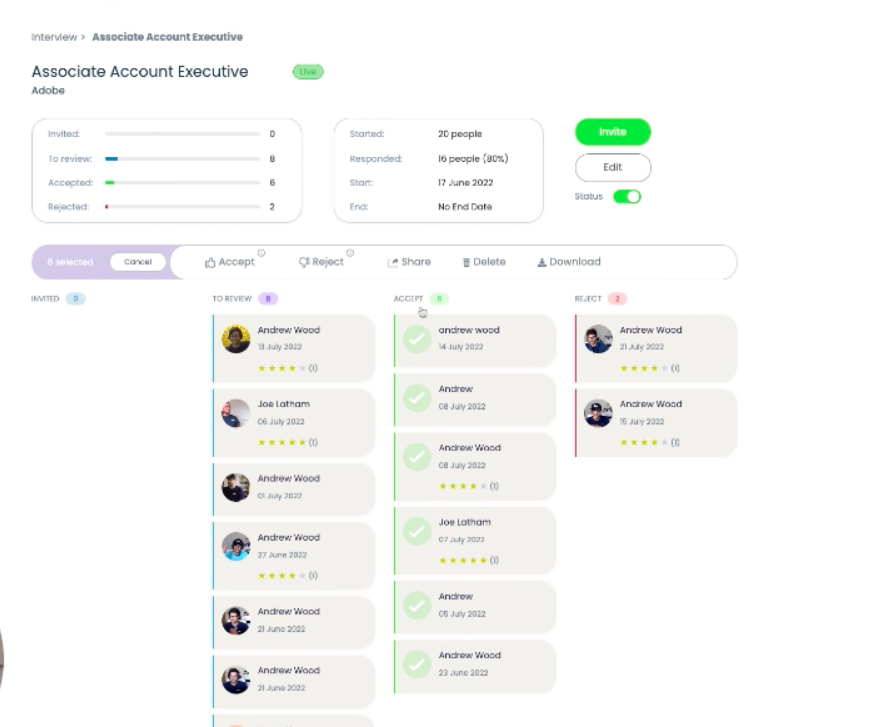 However, Willo may not be the best fit for companies that require live video interviews or need to assess candidates' soft skills in real-time. In addition, some candidates may feel uncomfortable with the idea of recording themselves on video, which could limit the pool of potential candidates.
Some of the key workflows of Willo are:
Creating an interview:

You can create an interview by choosing a title, adding a description, selecting questions from a bank, or creating your own. You can also set the time limit and number of retakes for each question and customize the branding and appearance of the interview.

Sending an interview:

Send an interview link to candidates via email or SMS or embed it on your website or job board. You can also integrate Willo with your ATS platform to automate the sending process.

Reviewing an interview:

Willo lets you watch video responses of candidates whenever you want, rate them on a scale of 1 to 5, and leave feedback notes. You can also filter and sort candidates by rating, status, or date.
Pros:
Willo integrates with over 5,000 enterprise apps and popular ATS platforms.

It saves time and resources by automating the screening process and allowing candidates to record their answers at their own convenience.

It provides a great candidate experience and a fair opportunity for everyone to showcase their skills and personality.
Cons:
Willo lacks some features like live video interviews, questionnaires for specific roles, etc., and some of its counterparts have.

It may not be suitable for some roles or industries requiring more interaction or assessment.

Doesn't have enough customization options for branding, design, or questions.
Pricing:
Willo offers three pricing plans. Here are the details:
Starter plan ($75 per month):

For up to 50 interviews per month with additional features such as custom branding, advanced analytics, and priority support.

Growth plan ($300 per month):

For up to 250 interviews per month with additional features such as team collaboration, custom domains, and GDPR compliance.

Scale plan ($850 per month):

For up to 1,000 interviews per month with additional features such as a dedicated account manager, API access, and enterprise integrations.
Willo also offers discounts for non-profits and early-stage startups. You can apply for them on their website.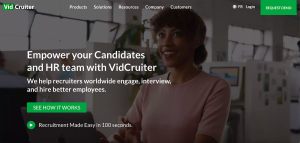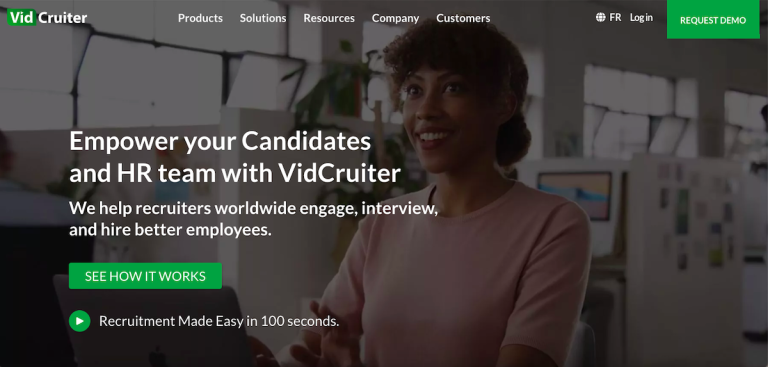 VidCruiter is another video interview platform on this list. However, VidCruiter stands out among many of its contemporaries for its ability to provide both live and pre-recorded video interviews.
In addition to interviewing candidates, recruiters using VidCruiter gain access to HR-based features, such as structured questions and rating guides, to assist them in their evaluations.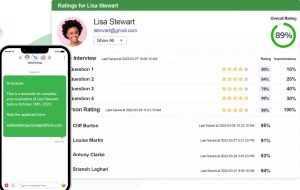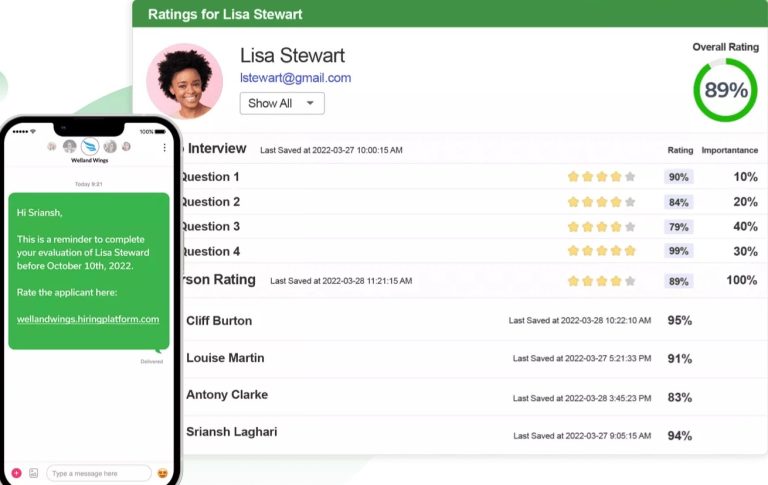 VidCruiter also offers an SHRM-approved interview guide builder that aids in implementing structured interviews, reducing hiring bias. Additionally, the platform provides a dedicated account manager for each client and offers 24/7 support.
Some of VidCruiter's key features include:
Pre-screening:

Recruiters can filter candidates based on their skills, qualifications, and personality using pre-recorded video interviews or online assessments.

Interview Scheduling:

VidCruiter helps automate the scheduling process using an online calendar system that syncs with your email and ATS.

References:

VidCruiter's automated references system allows recruiters to collect references from candidates by sending out requests and reminders via email or SMS.
VidCruiter is ideal for organizations and recruiters who want to streamline their hiring process, save time, and reduce costs. It's especially beneficial for organizations that hire remotely or internationally since it eliminates scheduling conflicts and timezone barriers.
However, it may not be suitable for recruiters who prefer traditional face-to-face interviews or those with limited internet access.
Pros:
It offers pre-recorded and live video interviews and other features such as skills testing, automated reference checking, digital signatures, etc.

It allows you to customize your workflow, branding, questions, rating scales, etc., to suit your specific needs and preferences.

It integrates with other platforms and tools such as ATS, CRM, calendars, etc.
Cons:
They're not upfront when it comes to their pricing and billing options. You'll have to contact their sales team for a custom quote.

While VidCruiter offers a wide range of features, some users reported that the platform could be complex and difficult to navigate. This can make it challenging for new users to get started quickly.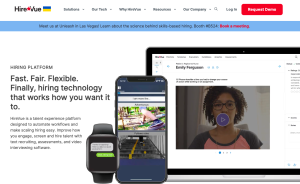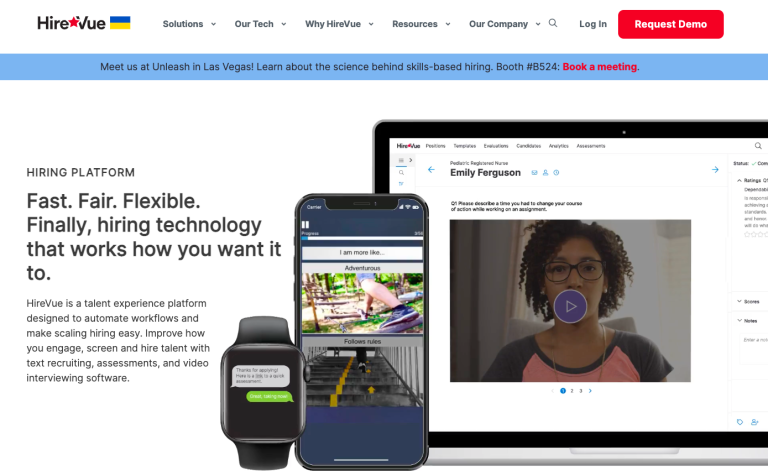 Initially founded in 2004, HireVue is a video interviewing platform allowing recruiters to conduct live and on-demand interviews. Some of its standout features include over 1,000 job-specific interview guides, real-time evaluation tools, automated candidate routing, and enterprise security.
Another distinctive feature is its built-in tools for evaluating coding proficiency and critical soft skills. HireVue's technical assessment software employs video, AI, and coding challenges validated by a team of organizational psychologists to help you evaluate technical talent.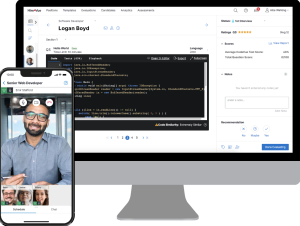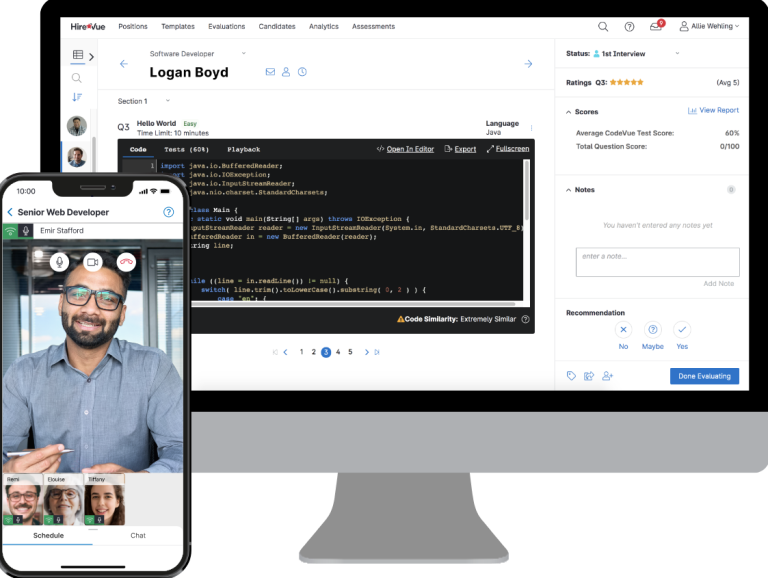 Other key features include:
Game Assessment:

HireVue offers game-based assessments backed by neuroscience and data science that help you select the most suitable candidates. The games measure cognitive abilities, emotional intelligence, and personality traits relevant to the role.

AI Technology:

HireVue uses AI technology to analyze candidates' video interviews and game assessments and provide insights and recommendations on their skills, fit, and potential. Recruiters can also customize the AI to meet their specific needs.

Text Recruiting:

Recruiters can communicate with candidates via text messages or WhatsApp and engage them with conversational AI. They can also use text recruiting to invite candidates to interviews or assessments, send reminders and confirmations, answer questions, and provide feedback.

Virtual Hiring Events:

HireVue allows recruiters to host virtual hiring events to attract, screen, and hire candidates in one day. Recruiters can use HireVue's platform to create branded landing pages, promote the event, schedule interviews, and track metrics.
Pros:
It provides customizable rating guides to evaluate candidates based on specific job requirements and company culture.

With the ability to pre-record and review interviews, HireVue helps you save time in the hiring process and quickly move through a large pool of candidates.

HireVue's structured interview feature allows you to create consistent questions for all candidates, ensuring fairness.
Cons:
HireVue's pricing is higher than other video interview platforms, which may make it less accessible for small businesses or organizations with limited budgets.

Some users have reported that HireVue's pre-built templates can be limiting and lack customization options.

Like any software, HireVue isn't immune to technical glitches and bugs. Some online reviews talk about experiencing video and audio quality issues.
Pricing:
HireVue offers two pricing plans, including:
Corporate Pricing (Starts at $35,000):

For companies with 2500-5000 employees.

Enterprise (Custom plans):

For companies with over 5000 employees.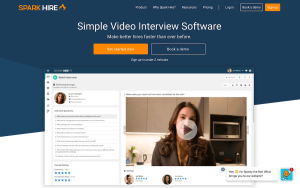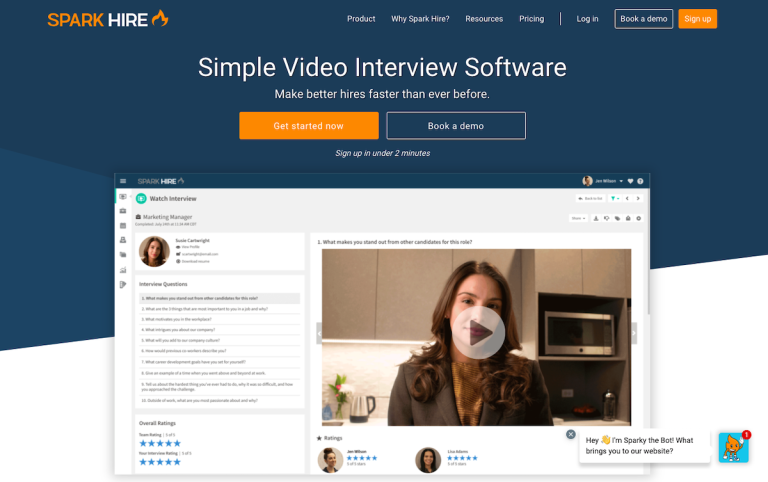 Spark Hire is a video interviewing platform that lets you accept one-way interviews, open one-way interviews, and live interviews. The one-way video interview is one of its standout features, which allows candidates to record video answers to interview questions at their convenience.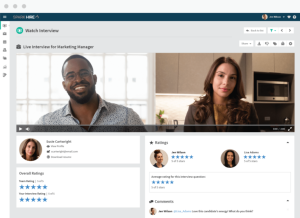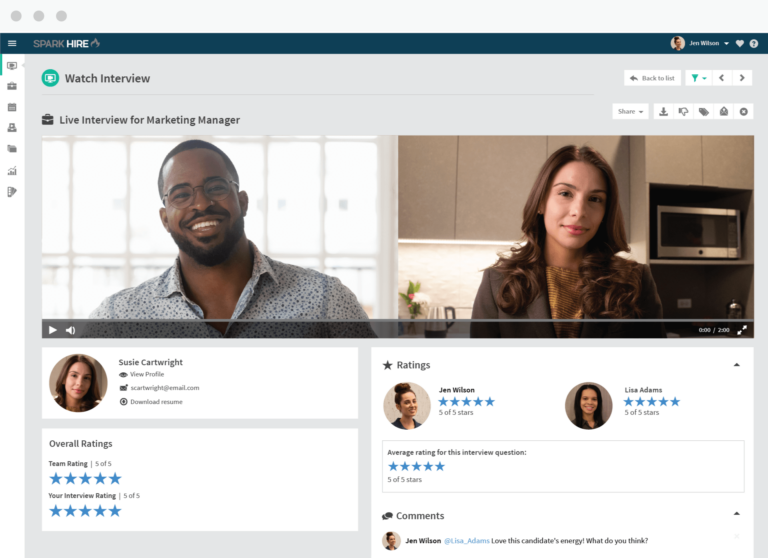 It also allows recruiters and hiring managers to screen candidates more efficiently, connect with them remotely, and foster collaboration with team members.
Spark Hire also has several unique features that differentiate it from other video interview platforms.
Additionally, recruiters can create personalized and branded videos using the video messaging feature to engage candidates at any stage of the hiring process.
Then you have the interview evaluation feature that allows recruiters to evaluate candidates by rating, commenting, tagging, and rejecting them. This feature speeds up the recruitment process and ensures recruiters can make informed decisions.
Some of Spark Hire's key features include:
One-way Video Interview:

This feature allows candidates to self-record video answers to interview questions on their own time. Recruiters can create text or video-based questions, limit think time, control the number of allotted takes, and restrict max answer length.

Interview Evaluation:

This feature allows recruiters to rate, comment, tag, and reject candidates easily. Recruiters can document rejection reasons, send rejection emails, and organize their shortlists.

Question Library:

This feature allows recruiters to access a library of pre-made interview questions that cover various topics such as behavioral, technical, situational, etc. Recruiters can also create their custom questions and save them for future use.
Pros:
Extensive integrations with various applicant tracking systems (ATS) and other recruitment tools.

The interview evaluation feature simplifies the candidate evaluation process and allows for easy collaboration.

The video messaging feature allows for personalized and branded communication with candidates.
Cons:
Limited language support compared to other platforms – a downside for organizations with diverse candidate pools.

Some users have reported occasional technical glitches or issues with customer support.
Pricing:
Spark Hire offers four pricing plans:
Lite ($149/month or $119/month annually):

1 job, 3 users, unlimited interviews, branding, video questions, evaluation tools, scheduling, video messages, integrations, and support.

Pro ($299/month or $239/month annually):

5 jobs, 5 users, everything in the Lite plan + advanced sharing, analytics, bulk invite, SMS text invitations. Advanced questionnaire add-on.

Growth ($499/month or $399/month annually):

10 jobs, custom users, everything in the Pro plan + Advanced questionnaire and single sign-on add-ons.

Enterprise (Contact Spark Hire for pricing):

Unlimited jobs. Everything in the Growth plan + SMS text invitations. Multiple add-ons for security and contracts.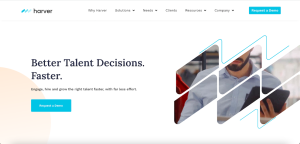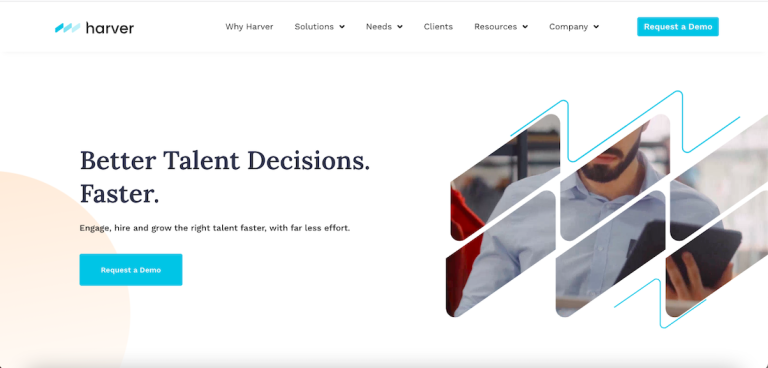 Harver is a video interviewing solution that helps recruiters screen candidates using asynchronous video interviews. This means that candidates can self-record video answers to pre-defined questions on their own time, and recruiters can review and evaluate them whenever they want.
Harver also stands out with its ability to incorporate promotional and team videos in your hiring process. Plus, Harver's collaborative interview scoring feature lets you bring multiple evaluators on board to rate and comment on candidate responses using a consistent rating scale. This feature streamlines the evaluation process, ensuring recruiters can make informed hiring decisions.
They also provide a team of IO psychologists to identify the ideal candidate profile and optimize the customized matching framework using performance feedback loops. This also helps minimize bias in the hiring process.
Pros:
Harver allows you to incorporate promotional and team videos that showcase your company's brand and culture, creating a more engaging and memorable candidate experience.

Harver's interview scoring feature allows multiple evaluators to rate and comment on candidate responses using a consistent rating scale, making it easier to assess candidates and make data-driven hiring decisions.
Cons:
It may be unsuitable for organizations that prefer live or synchronous video interviews.

Like most other virtual interviewing platforms, Harver also provides a standardized experience, which may not be suitable for companies with more specific needs or preferences.
Benefits of Using Video Interview Platforms
There are many benefits to using video interview platforms for hiring. Here are some of them:
Time and Cost Savings:
One of the biggest advantages of using video interview platforms is the ability to save time and money. Recruiters can conduct video interviews with candidates from anywhere worldwide, eliminating the need for travel and in-person meetings. This can save companies thousands of dollars in travel and accommodation expenses.
Improved Candidate Experience:
Video interview platforms offer a more flexible and convenient experience for candidates who can complete interviews from their homes. This can lead to higher levels of candidate engagement and satisfaction.
For example, Unilever managed to hire half of the candidates it screened using a video interview platform for the hiring process.
Better Hiring Decisions:
Video interview platforms provide a complete overview of each candidate. And when recruiters have a complete picture of the candidate, they naturally make better hiring decisions.
Plus, features like video messaging and collaborative interview scoring can help recruiters evaluate candidates more accurately.
Increased Diversity and Inclusion:
Video interview platforms can also help companies increase diversity and inclusion in their hiring processes. By enabling candidates to complete interviews remotely, companies can reduce barriers to entry for underrepresented groups.
Additionally, features like structured interview questions and blind reviews can help reduce unconscious bias in the hiring process.
Evaluate body language:
Video interviews also allow recruiters to evaluate body language and nonverbal cues, such as eye contact, hand gestures, and overall confidence level while answering questions.
This is especially helpful if hiring for a customer service or sales position. In that case, you can evaluate how candidates interact with others, express themselves, and handle difficult situations.
Key Features That Your Video Interview Platform Should Have
Here are some key features that your video interview platform should have:
One-way and two-way video interviews:

The best video interview platforms let you set up one-way interviews where candidates answer pre-written questions that you can review later. At the same time, they should let you conduct live or two-way interviews where you can chat with candidates in real time.

Collaboration features

: Collaboration features, like the ability to share feedback and ratings on candidates, can help streamline the hiring process. For example, Harver's collaborative interview scoring feature allows multiple evaluators to rate and comment on candidate responses.

Video Quality:

It's no good to have a great interview platform if the quality is poor. The video should be clear and crisp, allowing both parties to see each other clearly and understand what is being said. It should also be recorded in high definition so that there won't be any playback issues later on down the line.

Integration with your existing Applicant Tracking Systems (ATS):

Integration with your ATS can help you easily transfer candidate data and streamline your hiring workflow.

AI-powered interview analysis:

Artificial intelligence (AI) can help you quickly and accurately analyze candidate responses and identify top candidates. For example, many tools use AI to analyze the facial expressions, tone of voice, and word choice of candidates during the interview.
Questions to Ask Vendors on Demos
With so many options, how do you know which one is right for you? Here are some questions to ask vendors on demos related to video interviewing platforms:
Can you walk me through the process of setting up and conducting a video interview on your platform?

How do you ensure the security and privacy of candidate data during the interview process?

Does your platform support both live and pre-recorded video interviews? If so, how do they differ?

What level of customization is possible on your platform, such as branding, interview question templates, and evaluation criteria? Can we customize the platform with our company logo, colors, and branding to provide a consistent candidate experience?

How does your platform address potential bias in the interview process, and what tools or features are available to promote diversity and inclusion? For example, does the platform provide structured interview questions and evaluation criteria to help standardize the interview process?

Talking of diversity, does your platform handle accessibility for candidates with disabilities? For instance, does the platform support closed captioning or sign language interpretation for hearing-impaired candidates?

What kind of support and training do you provide to users of your platform, and is there an additional cost for these services? Are there tutorials or online training materials available?

How does your platform measure the effectiveness of the video interview process, and what kind of analytics and reporting are available?

What is your platform's video recording and storage capacity? Can the platform support HD video, and how long are the videos stored?

Can you provide references or case studies of organizations in our industry or of similar size who have successfully used your platform?

How does your pricing model work, and what factors determine the cost for our organization?

Can your platform integrate with our existing applicant tracking system (ATS) or other HR tools?
Common FAQs
What is a video interview platform?
A video interview platform is a tool that allows companies to conduct interviews with candidates in a remote setting. It provides an easy-to-use interface for both the interviewer and the candidate and stores all information gathered during the interview process.
How does it work?
Candidates sign up for an account, which allows them to record their videos through their mobile devices or computers. They upload those video recordings to the platform, where recruiters can access and review them to screen them immediately or schedule them to be viewed at another time.
What are the benefits of using a video interview platform?
Using a video interview platform can save time and money, eliminate geographical barriers, and help reduce bias in the hiring process. It also provides more flexibility for both the interviewer and the candidate, as interviews can be conducted from anywhere with an internet connection.
What are the different types of video interview platforms?
There are generally two types of video interview platforms – one that allows live interviews and the other with pre-recorded (asynchronous) interviews. Recruiters can conduct live interviews in real time, while pre-recorded interviews allow candidates to record their answers to pre-set questions at their convenience. However, some tools offer both types of interviews under a single umbrella.
How do I choose the right video interview platform for my organization?
When choosing a video interview platform, consider factors like ease of use, pricing, customer support, features, and integrations with other tools. It's also important to assess your organization's specific needs and goals and choose a platform that aligns with them.
How does the platform ensure fairness and minimize bias in the hiring process?
Video interview platforms should have features that support structured interviews, such as standardized questions and rating scales. Additionally, some platforms use artificial intelligence (AI) to analyze candidate responses and weed out biased hiring.
Pitfalls to Avoid When Buying Video Interview Software
When searching for video interview software, there are a couple of pitfalls to avoid. Here are some of the most common ones:
Thinking it's only about the technology: Video interviewing should be about more than just the technology itself. You want to be sure it's easy for both candidates and hiring managers alike to use and feels natural with minimal training. If this isn't possible, perhaps another screening method would be more suitable for you.
Not testing the software before purchase:

It's essential to test the software before making a purchase. This includes taking advantage of free trials or demos offered by the vendor. This will allow you to better understand the software's user interface, features, and capabilities.

Overlooking integration capabilities:

If you already use other HR software in your organization, it's important to ensure the video interview software can integrate with these existing systems. Overlooking integration capabilities can result in time-consuming and expensive workarounds.

Ignoring security and privacy features:

Video interview software will likely contain sensitive candidate data, including video recordings and personal information. Therefore, ensuring the software has robust security and privacy features, including data encryption and secure storage, is important.

Not considering scalability:

As your organization grows, so will your hiring needs. It's important to consider the scalability of the software to ensure it can handle increased usage and meet future hiring demands.
Time to Hit Record and Find the Best Candidates!
Online video interview platforms are essential for modern recruiting and hiring processes. They allow companies to conduct virtual interviews and save time and resources while increasing candidate engagement and the accuracy of evaluations.
We explored the top 6 video interview platforms in 2023, each with unique features and functionalities catering to different hiring needs. Spark Hire's one-way video interview feature allows for asynchronous candidate responses, while HireVue's AI-powered assessments provide technical talent evaluations. VidCruiter streamlines international and remote hiring processes, while Harver's candidate experience and team evaluation tools ensure a comprehensive assessment.
When choosing a video interview platform, it's essential to consider key features like collaboration tools, customization options, and candidate experience. With the right tool and approach, these platforms can revolutionize your recruitment process and help you find the right candidate for the job.