In today's competitive job market, it's crucial for recruiting and staffing agencies to have the best tools and resources available to stay ahead of the game. That's where the Best ATS platforms for Recruiting and Staffing come in.
Some standout solutions in this category include Bullhorn and Manatal. From candidate sourcing and tracking to collaboration and reporting, these platforms have everything agencies need to succeed.
But with so many options on the market, it's essential to consider factors such as pricing, ease of use, and customer support before making a decision. Let's explore the top six ATS (Applicant tracking software) platforms for recruiting agencies and staffing firms and see what sets them apart.
The Best ATS for Recruiting Agencies
With over 10,000 customers worldwide, Bullhorn is an acclaimed ATS in the staffing industry. The cloud-based platform offers both ATS and CRM (Customer Relationship Management) features to help recruiters manage their end-to-end staffing process.
If you're a recruiting agency that needs a scalable solution to manage its staffing needs, Bullhorn is your friend. The ATS can handle high-volume recruiting, complex workflows, multiple locations, and diverse client requirements.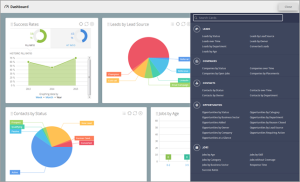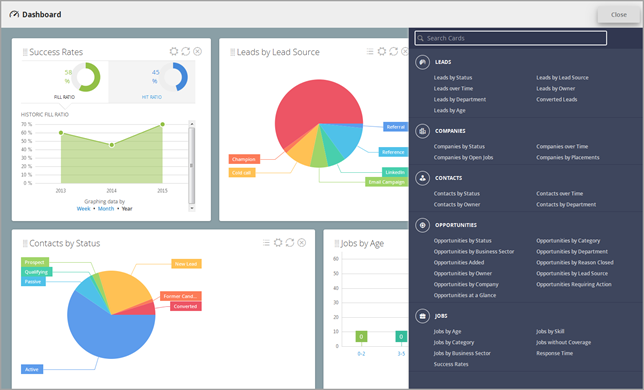 It also comes equipped with AI-powered resume parsing and job matching to save time and improve candidate sourcing and screening processes.
One of the unique differentiators of Bullhorn is its relationship intelligence features like pulse and radar that help recruiters monitor interactions with candidates and clients to identify engagement opportunities.
Additionally, Bullhorn provides advanced reporting and analytics to dig deeper into recruitment metrics, identify trends and optimize recruitment strategies.
Some of the key workflows of Bullhorn include:
Candidate submission:

Recruiters can submit candidates to jobs internally or externally, review their resumes, track their status, and communicate with them via email or text.

Interview:

Bullhorn lets you schedule interviews with candidates and clients, sync them with your calendars, send reminders and feedback requests, and update your status.

Placement:

It allows you to create placements for candidates who accept job offers, associate them with relevant information (including job details, pay rates, and start dates), and generate contracts and invoices
Pros:
Bullhorn integrates with various third-party tools, including major vendor management systems, social media platforms, and email providers, to provide a seamless workflow and data synchronization. Some prominent names include Gmail, Outlook, LinkedIn, Herefish, TextUs, and more.

Bullhorn has more features than other ATS software, including job order management, candidate search, activity tracking, reporting, lead tracking, pipeline management, and relationship intelligence.

Bullhorn's bulk email-sending function allows you to communicate with multiple candidates or clients simultaneously.
Cons:
Bullhorn does not have a free version or transparent pricing. Plus, the basic plan doesn't include LinkedIn integration or unlimited data storage.

Some users report that Bullhorn's interface is not very intuitive or user-friendly.
Manatal is a cloud-based ATS that helps HR teams and recruiting firms manage their entire recruitment process – from sourcing and candidate management to placement and onboarding.

Manatal also stands out from other ATS solutions in a few key ways.

For starters, it offers candidate enrichment that lets you build detailed candidate profiles using data from LinkedIn and 20+ social platforms. This feature gives a holistic view of a candidate's background and experience, allowing you to find a suitable match for a job opening.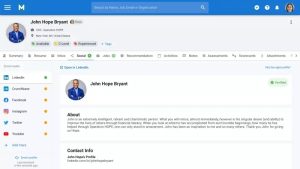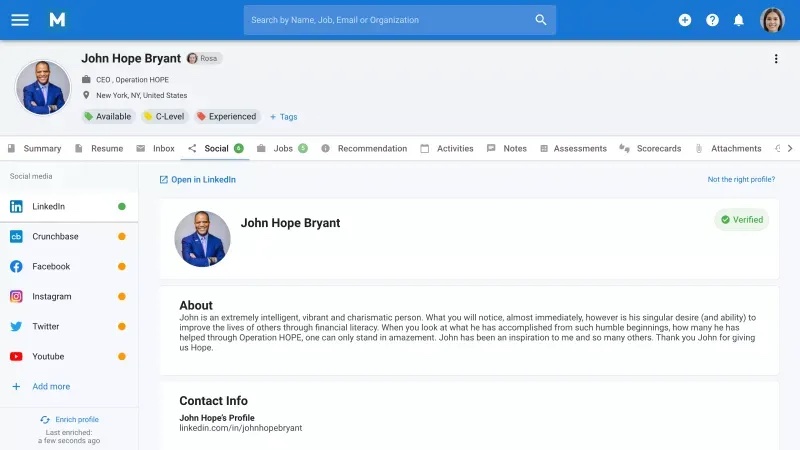 Another unique feature is AI recommendations. You can reach top talent in your database with search tools, filters, and candidate scoring.
Recruitment CRM is another standout feature. This lets you keep track of commercial activity, clients, placements, and revenue all in one place. This is particularly useful for staffing and recruiting firms that need to manage a high volume of client relationships and placements.


Recruitment CRM: Track pipeline in one place
Manatal also offers a branded career page that helps you create a customizable career page or integrate an existing one. This can be a great way to showcase your brand and attract top talent to your organization.
Some of its key workflows include:
Candidate sourcing:

Manatal helps you source candidates from multiple channels, including job boards, career pages, LinkedIn, referral programs, and even manually. You can also enrich candidate profiles with social media data and AI insights.

Applicant tracking:

It lets you track job applicants through different stages of the recruitment process using pipelines and activities. You can also collaborate with hiring managers and invite them to review candidates and provide feedback.

Candidate matching:

Mantal's AI engine finds suitable candidates for your vacancies based on their skills, experience, and education, among other criteria. You can also use search tools and filters to narrow your candidate pool.
Overall, Mantal is for HR teams, recruitment agencies, and headhunters looking to source and manage candidates quickly. It's especially suitable for those who want to leverage AI and social media data to find the best fit for their vacancies.
That said, Mantal may not work for those who prefer a more traditional or manual approach to recruitment or need more customization or integration options.
Pros:
Manatal has lower prices than many other ATS tools. You also get a 15-day free trial to try the features beforehand.

Manatal is easy to use and has Kanban-style, drag-and-drop pipelines for candidate management.

It also saves time and improves hiring quality with its AI-based suggestions tool

.
Cons:
Manatal doesn't let you add multiple locations for a single job position on the career page.

They need to offer more customization options for the career page and email templates.

Lack of integrations with some popular tools like Zoom and Slack.
Pricing:
Manatal offers three pricing plans: Professional, Enterprise, and Custom:
The Professional plan costs $15 per user per month

, allowing up to 15 jobs per account and up to 10,000 candidates. It also includes unlimited hiring managers.

The Enterprise plan costs $35 per user per month

and allows unlimited jobs, candidates, and hiring managers. It also includes custom features and integrations upon request.

The Custom plan is on demand

and requires contacting the sales team for a quote. It includes everything in the Enterprise plan plus custom features and integrations tailored to your needs.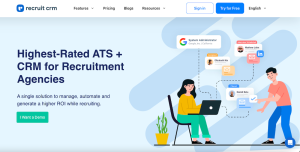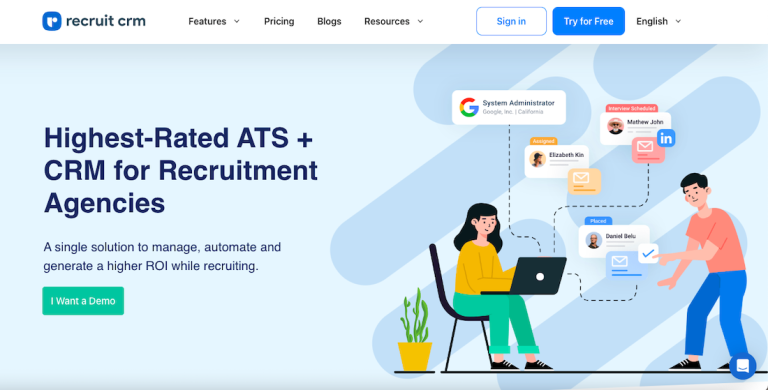 Recruit CRM is a cloud-based recruitment software that combines ATS functions with a customer relationship management (CRM) system. It works as an all-in-one solution for managing and automating the recruiting process.
One of its most notable features is its simple and easy-to-use interface, making navigating and setting up a breeze. This can be a massive plus for recruiters with limited technical expertise.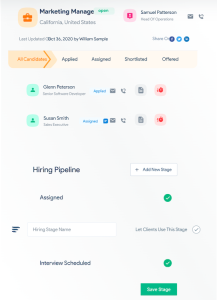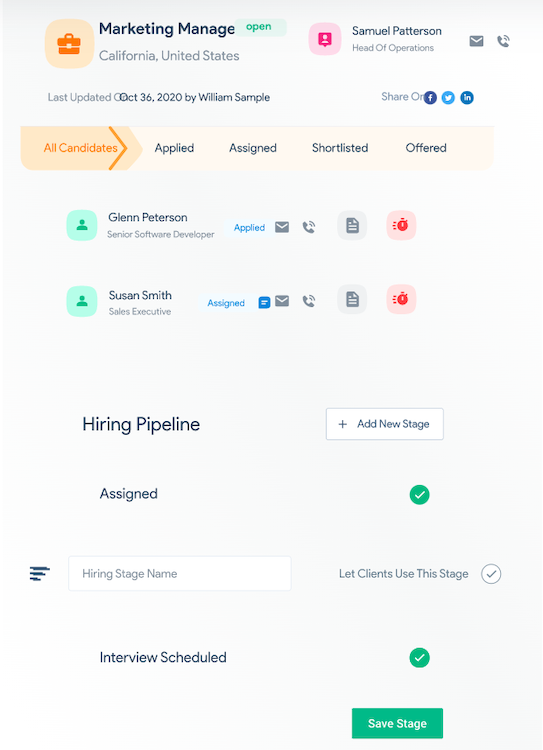 Recruit CRM also has a visual pipeline that shows the status of each candidate, making it easy to track their progress through the recruitment process. Additionally, the platform offers a self-service portal that lets candidates update their profiles, reducing administrative work for recruiters.

Another unique feature is its sourcing tool, which allows you to source candidates directly from LinkedIn. This can save recruiters time and effort when trying to find the perfect candidates for a job opening.

Some of its primary workflows include:

Candidate interaction:

It helps you communicate with candidates using email templates, bulk emails, email tracking, SMS integration, and a candidate portal.
Managing clients:

The CRM feature allows you to create and track opportunities, submit candidates, get feedback, and generate invoices.
Posting jobs to multiple job boards:

It has a single interface that lets you buy and post ads to premium job boards or automatically post jobs for free.
Pros:

Recruit CRM's modern and easy-to-use interface requires minimal training and setup.

The visual pipeline gives a quick overview of candidates' status, such as applied, assigned, shortlisted, or offered.

It provides native integration with Zapier that helps connect with 5000+ business apps.
Cons:

The lack of a calendar view for scheduling interviews or tasks.

The limited character limit for notes on candidate records may not be sufficient for recruiters.

Users have reported difficulties in training and solidifying processes with RecruitCRM due to constant updates and changes since it's still in an early stage of development.
Pricing:
Recruit CRM has three pricing plans: Pro, Business, and Enterprise.

Pro plan ($85 per user per month):

It allows unlimited jobs per account and up to 10,000 candidates, contacts, and companies.
The Business plan ($125 per user per month):

It allows up to 20,000 candidates, contacts, and companies. It also includes everything in the Pro plan + resume/CV formatting, 100 custom fields, and API access.
The Enterprise plan ($165 per user per month):

It allows unlimited candidates, contacts, and companies. It also includes everything in the Business plan + a custom SLA, custom branding, dedicated servers, and a dedicated account manager.
You can also start a free trial of Recruit CRM with no credit card required. The free trial provides access to all features with 50 candidates, 50 contacts and companies, and four open jobs.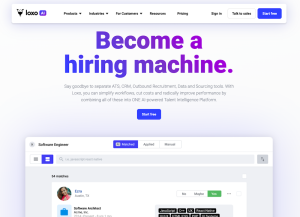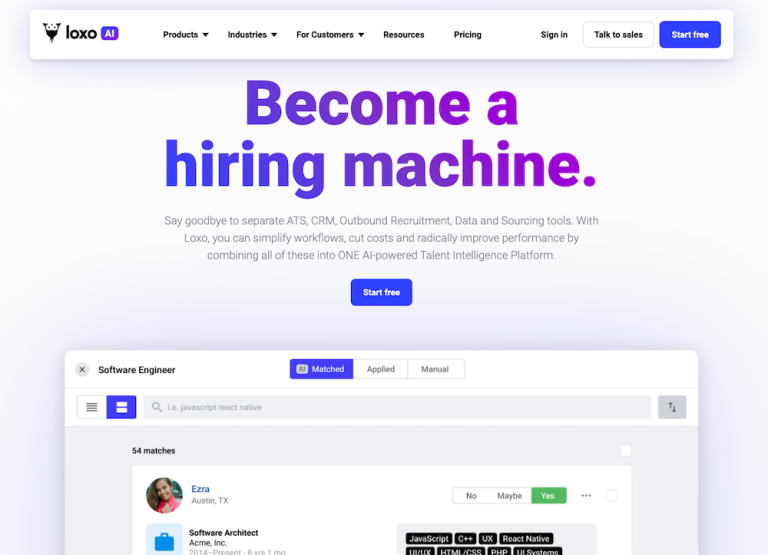 Loxo is an all-in-one talent intelligence platform that combines ATS, CRM, outbound recruitment, data, and sourcing tools. Consolidating these functions into a single platform helps simplify workflows, reduce costs, and improve performance.

Loxo's sourcing tool is worth noting. It provides access to a 1.2 billion professional and social profiles database from multiple data sources, including public profiles and the open web. And if you're worried about the accuracy of contact information, Loxo's got you covered with verified email, phone, and social profiles for over 800 million contacts.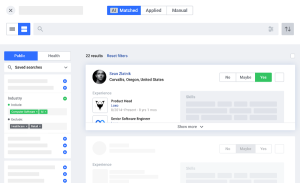 Loxo also offers an outbound recruiting tool that lets you create and automate multichannel sequences to engage candidates via email, SMS, and phone calls. This can be a great way to build a strong talent pipeline and reduce your reliance on job boards and other passive recruitment methods.
That's not all – Loxo also leverages artificial intelligence and machine learning to learn hiring preferences, suggest potential candidates, and automate tasks. This can help you save time and focus on the most important parts of your job.
Here's a quick overview of Loxo's key workflows:
Sourcing candidates from 1.2 billion profiles using a sourcing tool that automatically adds them to the database and enriches their profiles with social media data.

Managing candidates using an ATS that shows the status of each candidate using a visual pipeline.

Managing clients using a CRM that allows you to create and track opportunities, submit candidates, get feedback, and generate revenue.
Pros:
Loxo combines ATS, CRM, outbound recruitment, data, and sourcing tools into one AI-powered talent intelligence platform.

It offers access to a large database of professional and social profiles, verified contact information, and AI-recommended candidates.

It allows you to automate outbound recruiting with multichannel sequences and built-in email, SMS, and calling features.
Cons:
Some users mentioned difficulty in importing data from other sources or exporting data to other formats.

There's a need for more training and documentation on how to use the software effectively.

It's priced higher than many other ATS platforms on the market.
Pricing:
Loxo offers three plans; their pricing will depend on your plan and add-ons.
The free plan offers the basic ATS and CRM features for free forever but includes no add-ons. The add-ons are optional features that can be purchased per seat, per month, such as Loxo Connect, Loxo Source, Loxo AI, Loxo Outreach, Talent Insights, SMS & Calling.
The professional plan costs $299 per seat per month and includes all the add-ons as well as customized workflows, a dedicated onboarding specialist, and priority customer support.
The enterprise plan has custom pricing and includes all the features of the professional plan as well as AI internal mobility sourcing, e-signature integration, SSO, SOC 2 Type II reporting, audit logs, and deployment options.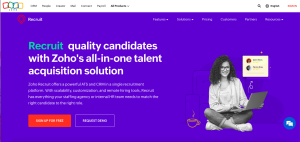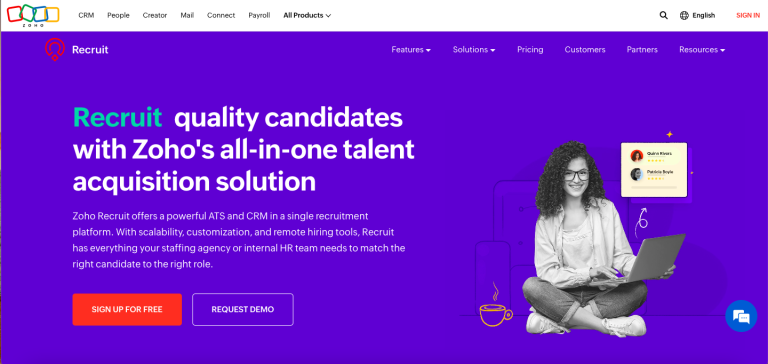 ZohoRecruit is another talent acquisition software that offers an ATS and a CRM in a single recruitment platform. It helps staffing agencies and internal HR teams source, attract, engage, and hire quality candidates for any role.
To source candidates, you'll get access to a database of professional and social profiles, along with verified contact information and AI-recommended candidates.
ZohoRecruit also offers a visual interface to help you track and manage the entire recruitment process – from sourcing to hiring. It consists of different stages, such as Screening, Assessment, Interview, Offer, and Hired, and each stage has appropriate candidate status.

You can also customize your hiring pipeline by adding or removing stages, color-coding them, and mapping candidate statuses to them.
Here's an overview of the key features of ZohoRecruit:
Source & Attract:

It allows you to post jobs on 75+ job boards with a single click and share those listings on social media platforms. You can also access an extensive database of professional and social profiles, verified contact information, and AI-recommended candidates.

Track & Engage:

Recruiters can track where their candidates are at every hiring stage and optimize their recruitment process with advanced analytics. They can also communicate with candidates via email, SMS, and phone.

Automate & Hire:

You can use custom automation tools to push candidates through every stage in the hiring process. You can also create a customized career site to attract more applicants.
It also lets you customize your career sites with SEO-friendly keywords, subdomain mapping, localization, and mobile optimization. And finally, it integrates with over 50 other tools, including Zoho CRM, Slack, Zoho Sign, Zoho Analytics, Outlook, and LinkedIn.
Pros:
Affordable pricing plans, making it accessible for small and medium-sized businesses.

Integration with other Zoho products, such as CRM and HR management, for a seamless hiring and onboarding experience.

Easy-to-use interface and intuitive navigation, reducing the learning curve for new users.

Good customer support, with helpful documentation and responsive customer service agents.
Cons:
Some users have reported occasional glitches and slow performance, particularly when working with large amounts of data.

Some users have reported difficulty integrating third-party tools and plugins, which can reduce the platform's flexibility.

Reporting and analytics features are less advanced than other ATS platforms, making tracking and analyzing recruitment metrics harder.
Pricing:
Like Loxo, ZohoRecruit's pricing also depends on the plan and different add-ons.
The free plan offers the basic ATS and CRM features for free forever but includes no add-ons.
The add-ons are optional and can be purchased per seat, per month, including Zoho Workerly, Zia Voice, Candidate Anonymization, Assessment Module, SMS & Calling.
The Standard plan costs $25 per seat per month and includes all the free features + resume parsing, email templates, interview scheduling, and reports.
The Professional plan costs $50 per seat per month and includes all the standard features + career site management, social media integration, and advanced analytics.
The Enterprise plan costs $75 per seat per month and includes all the professional features + modules, custom functions, and webhooks.
The Ultimate plan has custom pricing and includes all the enterprise features + a dedicated database cluster and premium support.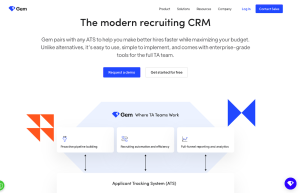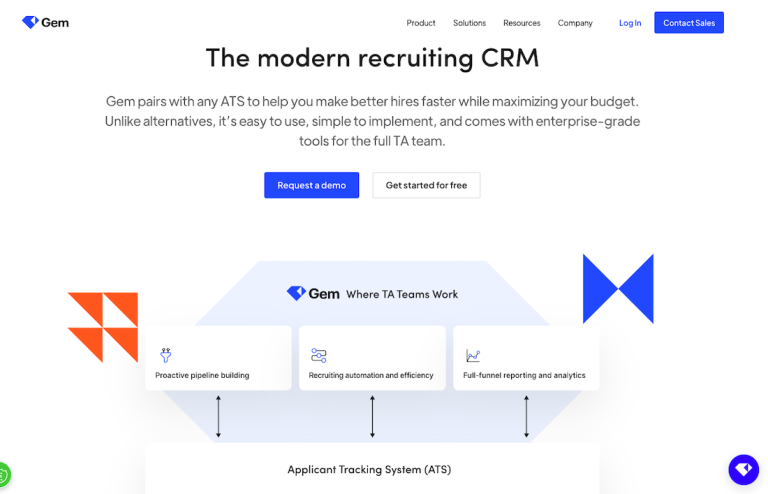 Gem is a talent engagement platform that leverages data and automation to help you engage talent more deeply, build diverse, high-quality pipelines, and hire predictably at any scale.
Gem integrates with various applicant tracking systems (ATS) to streamline the recruiting process and provide a single source for all talent relationships.
For starters, it offers full-funnel insights into the recruitment process. This means recruiters can see the entire process, from sourcing to hiring, and use this information to optimize their outreach strategies and measure performance.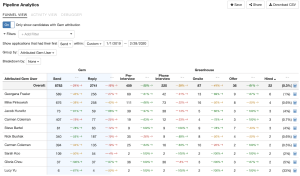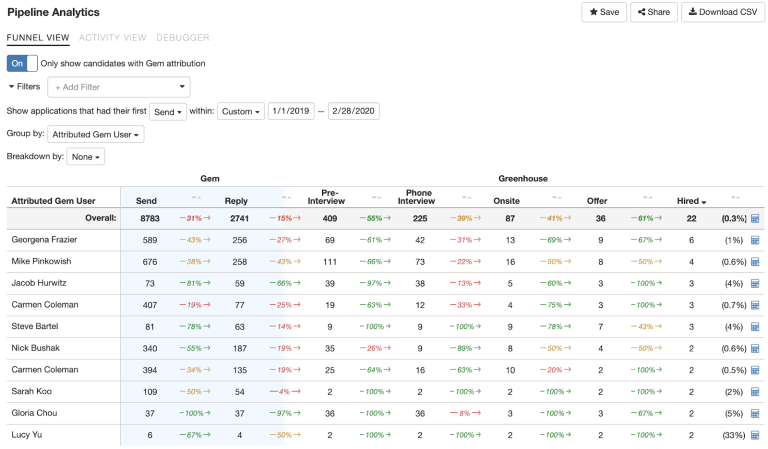 Another feature worth noting is its ability to automate personalized email campaigns and follow-ups. This will help you save time while ensuring you stay in touch with candidates. Additionally, the platform syncs all email activity with the ATS and LinkedIn, making it easier to track communications.

Some of its key workflows include:

Sourcing candidates from LinkedIn or other sources and uploading them to Gem and the ATS through a single click.

Creating email sequences and templates and sending personalized outreach campaigns to candidates.

Tracking email opens, clicks, replies, bounces, unsubscribes, etc., and syncing them with the ATS and LinkedIn.

Scheduling interviews with candidates and sending calendar invites and reminders.

Moving candidates through stages in the ATS based on their responses or actions
Gem is particularly beneficial for teams looking to build diverse pipelines and make predictable hires at scale. However, it may not be suitable for recruiting teams without access to an ATS or those who do not have a clear hiring strategy or goals.
Pros:

The platform supports diversity and inclusion initiatives by helping recruiters source underrepresented talent, track diversity metrics, and mitigate bias.

It facilitates collaboration between hiring managers and other stakeholders on candidate profiles, feedback, notes, ratings, etc.

Offers a modern and user-friendly interface, making it easy for recruiters to navigate and use the platform.
Cons:

Gem doesn't disclose its pricing on its website but offers a free demo and a free trial for interested customers.

It's not an ATS itself – you'll need to integrate it with your pre-existing ATS to sync data and context.
Benefits of Using ATS for Recruiting Agencies
Here are some of the benefits that an ATS can offer:
Faster Hiring Process
It's a given that automated systems help reduce the time recruiters take to make hiring decisions. They allow candidates to apply via their website or mobile applications while they are away from their desks.

The application process is quick and simple, eliminating human errors during data entry or selection. This also helps recruiters save time and quickly get the right person on board.
Streamlined Recruitment Process
ATS automates many manual tasks, including posting job ads, screening resumes, scheduling interviews, and sending follow-up emails.

This frees up time for recruiters to focus on more human-centric tasks like candidate engagement, employer branding, and stakeholder collaboration.
Data-driven decision making
ATS platforms provide recruiters with valuable insights into their recruitment metrics like time-to-fill, source of hire, and cost-per-hire. This helps them optimize recruitment strategies, measure performance, and make data-driven decisions.
Easier Management
An automated system allows you to track your candidate's progress at all times, making it easier to manage them throughout the recruitment cycle. From assessment through onboarding and beyond into career development programs or even promotion opportunities when available within your organization's structure, ATS platforms help you keep track of everything.
Manage Large Volumes of Applicants
One of the best things about an ATS is its ability to handle large volumes of applications and resumes.

If you receive hundreds of applications per week, it would be impossible for your team members to go through each manually, especially when they have other responsibilities on their plates. Using an ATS allows you to keep track of all those applications so that you can identify candidates who meet your criteria and contact them if they are chosen for a position.
Key Features That Your ATS Platform Should Have
Here are some key features you should look for in an ATS platform:

Ease-of-use:

The platform should be easy to use and navigate through. You don't want to waste time trying to find something that is not there. Your ATS should also be user-friendly, meaning it must come with a great user experience (UX).
Integration options:

Integration is key when choosing an ATS platform because they allow you to connect with other systems you already use — including HR software solutions, CRM, and applicant tracking solutions. It also helps you keep all the data related to hiring candidates in one place.
Job posting:

Job posting is one of the most common activities in recruitment. Naturally, your ATS should allow you to post jobs on job boards, social media, and other platforms like LinkedIn. Many ATS platforms even help you post multiple jobs simultaneously and also allow you to create automatic notifications when someone applies for a particular job. This saves you time as you don't have to manually review each application received or respond to each candidate individually.
Application tracking:

You'll need a system that can keep track of each applicant's information throughout the entire process – from initial application through follow-up emails after interviews or preliminary job offers. That way, if someone doesn't get hired but is a good fit for another position in the future, you can easily add them back into the database.
Interview organization:

Your ATS should assist you in scheduling and interviewing candidates. You should be able to send calendar invites and reminders and create interview kits that include candidate resumes, questions, feedback forms, etc.
Collaboration:

The ATS you pick should let you collaborate and keep everyone in the loop on hiring decisions. It should also help you share candidate profiles, notes, ratings, feedback, etc.
Questions to Ask Vendors on Demos
When evaluating an ATS platform for your recruiting agency, it's important to ask vendors the right questions to get a suitable fit for your organization. Here are some questions to consider:

Ask the vendor about the candidate pipeline process. This question will give you an understanding of how the system handles each stage of the hiring process and if it aligns with your agency's workflow.
How does your ATS integrate with other recruiting tools and services? Make sure your new ATS will integrate seamlessly with whatever systems you already have in place, like payroll or HRIS systems.
What type of tasks does it automate? Automation can help you save time by automating tasks such as candidate follow-ups, interview scheduling, and resume screening. Ask vendors about the extent of their automation capabilities.
What's the difference between our current applicant tracking system and yours? This will help you understand what exactly you're getting when you pay for this new software and why it's worth upgrading.
How does the ATS handle diversity and inclusion? Many companies are prioritizing diversity and inclusion in their hiring processes, so don't forget to ask vendors how their system can support your agency's efforts in this area.
Can you customize the ATS to fit our agency's specific needs? Every recruiting agency has different workflows and processes, so check whether you can customize the ATS to meet your agency's needs.
What kind of reporting and analytics does the ATS provide? Reporting and analytics can help you track the performance of your recruiting efforts and make data-driven decisions. Ask vendors about the types of reports and analytics their system provides.
What kind of support and training do you offer? Knowing what kind of support and training vendors offer is important. Ask whether they provide support for onboarding, training videos, and ongoing support. This can significantly affect how quickly your agency can get up and running on the new system.
How much data can it hold? This will greatly impact how many applicants you can track and manage through the system. If you need to store resumes, cover letters, interview notes, and other data, ensure your vendor has enough storage space.
Common FAQs

What is an ATS?
An ATS platform is a software application that helps recruiting agencies manage their entire recruitment process, from sourcing to hiring. It automates and streamlines tasks like job posting, resume screening, candidate communication, interview scheduling, and reporting.

Why do I need an ATS platform?
You need an ATS platform because it will save you time and money in the long run. You'll have a more efficient way of finding the right candidate for your job openings so that you can reduce the amount of time spent on recruiting efforts. This means more time for other important things like training new hires or managing existing employees.

What are the key features I should look for in an ATS platform?
The key features to look for in an ATS platform for recruiting agencies include job posting and distribution, candidate database management, interview scheduling, and collaboration. Some additional features include reporting & analytics and integrations with other recruiting and HR tools.

How much does an ATS platform cost?
The cost of an ATS platform varies depending on the size of your recruiting agency, the number of recruiters using the platform, and the features and functionality you require. Some platforms charge per user or job posting, while others offer monthly or annual subscription fees.

How secure is my data on the ATS platform?
Most ATS platforms offer data encryption, regular backups, and access controls to ensure the security of your data. It is important to ask vendors about their security measures and certifications to protect your data.
Pitfalls to Avoid When Buying an ATS for Your Recruiting Agency
If you're looking to buy an ATS for your recruiting agency, there are a few pitfalls you should avoid.

Focusing too much on features and not enough on usability:

While an ATS with robust features can be enticing, if it's not user-friendly and intuitive, it can be challenging for recruiters to adopt and fully utilize the tool.
Overlooking integration capabilities:

A good ATS should integrate with other key tools in your tech stack, including job boards, HRIS, or CRM. Overlooking this can lead to manual data entry and siloed information.
Neglecting security features:

This includes password protection, encryption, and user access controls. Your ATS should also have a backup system if something goes wrong with the primary server or database.
Ignoring customer support and training:

Without proper training and support, you might end up struggling to use the platform and encounter issues that hinder your productivity.
Failing to consider scalability:

As your recruiting agency grows, your ATS needs to scale with you. Investing in a platform that cannot meet your hiring demands can result in downtime, lost candidates, and missed opportunities.
Wrapping it Up!
An ATS platform can significantly streamline and optimize the recruitment process for recruiting agencies. An ATS can also help recruiters source, engage, and hire top talent by automating workflows, enabling better collaboration, and providing data insights.

Overall, each ATS platform discussed in this conversation has standout features that may make it the best choice for certain recruiting agencies.

Zoho Recruit's hiring pipeline and candidate management system may appeal to agencies seeking a customizable and visual approach. Gem's automation and collaboration tools may be ideal for agencies seeking to streamline their communication and hiring decisions. Or, Loxo's comprehensive suite of features may appeal to larger agencies with more complex needs.