In 2023, the use of machine learning and AI-powered bots is skyrocketing, and the competition to offer the best HR chatbots is fierce. With chatbots helping you save time and money by handling up to 80% of standard questions from candidates within minutes, it's clear that the need for innovative recruitment solutions has never been greater.
Many of these online assessment tools and HR chatbots, like Paradox and Humanly, provide an efficient and cost-effective way for organizations to streamline their recruitment process while improving employee engagement and satisfaction. They also help you gauge a candidate's competencies, identify the best talent and see if they're the right cultural fit for your company.
In this article, we'll delve into the top 3 best recruiting chatbots in 2023 to help you shortlist and hire the right candidates.
The 3 Best HR Chatbot Tools
Here are the three best HR chatbot software tools in 2023:
Paradox is a conversational AI chatbot that helps recruiters and hiring managers to automate tasks and engage candidates through text messages. Paradox's built-in chatbot, Olivia, can screen candidates, schedule interviews, answer questions, collect feedback, and more.
They claim that Olivia can save recruiters millions of hours of manual work annually, cut time-to-hire in half, increase applicant conversion by 5x and improve candidate experience.

Olivia is also marketed as a "24/7 recruiter you hire." And it's true enough.

Paradox uses natural language processing to create conversations that feel natural and human-like. Thanks to their use of NLP, Olivia functions in a manner similar to that of a human recruiter. For example, it can qualify candidates based on their resume or job application and match them to the best-fit roles.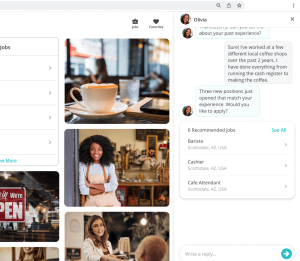 Another key feature that makes Olivia stand out is its ability to communicate with candidates 24/7, on any device, in 100+ languages.
Other key features of Paradox include:
Interview scheduling:

Olivia can coordinate with candidates and hiring managers to find the best time slot for interviews and send reminders and confirmations.

Candidate communication:

Olivia can answer common candidate queries about the job role, company culture, company policies, benefits, etc., or direct them to relevant resources.

Candidate feedback:

Olivia collects feedback from candidates after each stage of the hiring process and measures their satisfaction and sentiment.
All in all, Paradox is most suitable for organizations that want to streamline their recruiting process and reduce manual work. If you also want to improve your candidate experience and hire faster and more efficiently, then also Paradox is your friend.
That said, it might be overkill for organizations with a low hiring volume or a simple hiring process. Organizations that prefer other communication channels like email or phone calls may also find it unsuitable.
Pros:
Olivia saves a tremendous amount of time and reduces manual work. It can handle repetitive and tedious tasks such as screening candidates, scheduling interviews, sending reminders, etc., that would otherwise take hours of human effort.

It integrates with leading applications, such as Workday, SAP SuccessFactors, Oracle Taleo, Indeed, etc.

It supports multiple languages and can communicate with candidates across 47 countries.
Cons:
Paradox may not be able to replace the human touch or rapport that recruiters can build with candidates through personal interactions. For example, if a candidate prefers to talk to a real person or if a recruiter wants to assess the candidate's personality, fit, or motivation more deeply, Olivia may not be able to convey the same level of empathy, trust, or engagement.

Paradox only provides some basic metrics and does not integrate with other analytics tools or platforms. This could limit the ability of organizations to make data-driven decisions and optimize their hiring processes.

As with any chatbot software, Paradox requires a stable internet connection to function effectively.
Humanly.io is a conversational hiring platform that uses AI to automate and optimize recruiting processes for high-volume hiring and retention.

What sets it apart is its ability to utilize multiple channels, including chat, SMS, social media, and QR codes, to connect with potential candidates where they are.

The tool also eliminates biased factors from conversations and offers valuable insights during interviews to promote fair hiring decisions. Additionally, it offers HR chatbots for different types of hiring, such as hourly, professional, and early career.

The chatbot also syncs with your calendar and availability preferences and offers candidates convenient time slots to book interviews.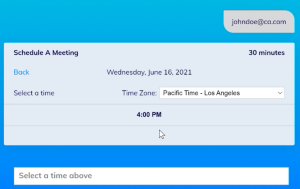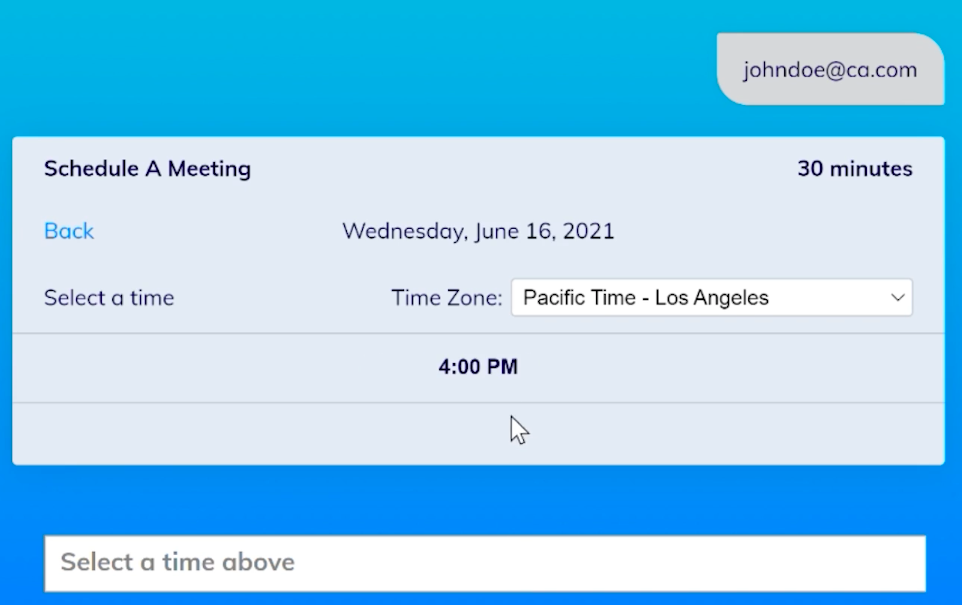 Some of the key workflows that Humanly.io supports are:
Screening:

Humanly engages with candidates who apply through various sources and asks them relevant questions based on the job requirements. They have role-specific conversation templates, allowing the chatbot to ask the right questions at the right time.

Reference checking:

Humanly can help you contacts the candidate's references via email or SMS and asks them standardized questions. The chatbot then compiles the feedback into a report for the hiring team.

Re-engagement:

The chatbot reaches out to past candidates still interested in working for the organization and invites them to apply for new or relevant opportunities.

Virtual interview assistant:

Humanly.io helps recruiters conduct virtual interviews by providing AI-generated notes, follow-up emails, and interview insights.
All in all, Humanly.io is good for organizations that want to save time, improve candidate experience, and increase diversity in their talent pool. It's especially useful for high-volume hiring scenarios where recruiters need to screen and schedule hundreds or thousands of candidates quickly and efficiently.
However, it may not be ideal for organizations with very complex or customized recruiting workflows that require human intervention or customization.
Pros:
It improves candidate experience and engagement by providing personalized and conversational interactions through multiple channels.

The chatbot also sends SMS-based reminders and confirmations to reduce no-shows.
Cons:
It may be overkill for a startup or a small organization.

Lack of robust reporting capabilities.

Humanly.io currently supports only the English language. This could be a problem for organizations that recruit globally or have a multilingual candidate pool.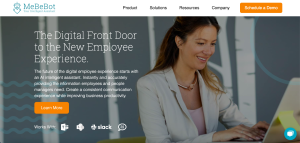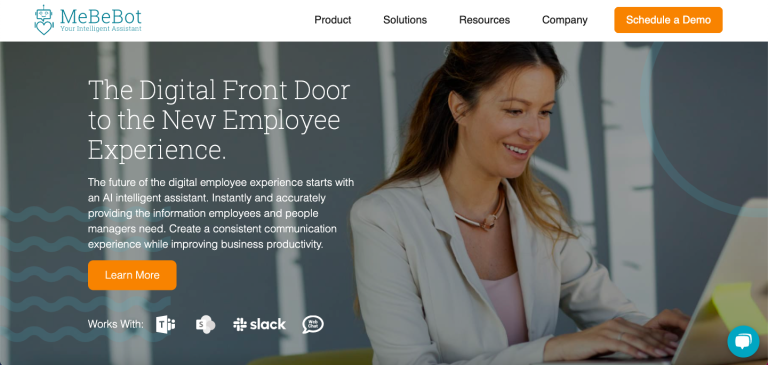 MeBeBot is an AI intelligent assistant that automates answers to employee questions and communications for HR, IT, and Operations teams. It also provides push messaging, pulse surveys, and real-time data insights to improve employee experience and engagement.

MeBeBot also provides native integration into your company's Slack channel or Microsoft Teams, allowing employees to interact with it seamlessly.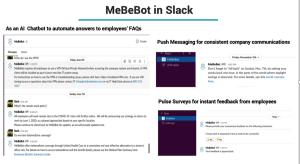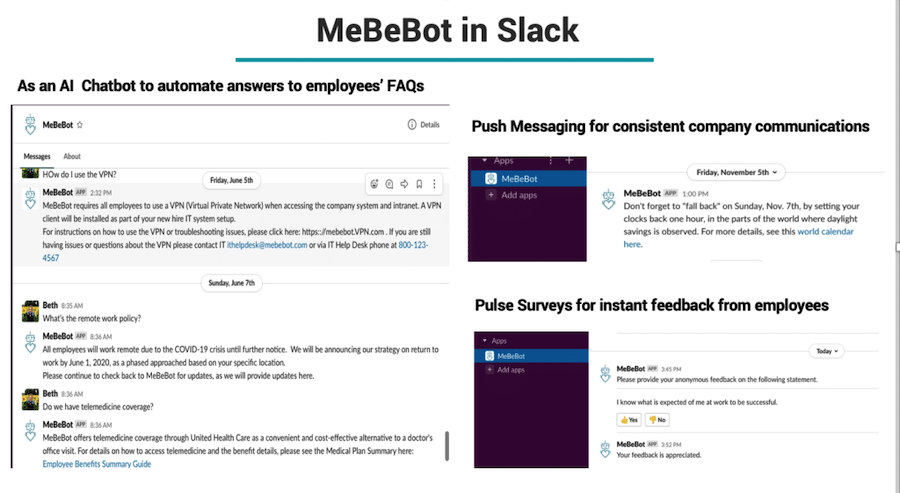 It also has a crowdsourced global knowledge base of over 300 FAQs you can edit and customize to fit your business policies and processes. With its support for multiple languages and regions, MeBeBot is also a great fit for companies looking to hire a global workforce.

Some of MeBeBot's key features include:

Employee FAQs:

The chatbot answers common employee questions about HR, IT, payroll, benefits, facilities, operations, etc., using a curated knowledge base that the admins can customize.
Push Messaging:

It sends out notifications, company updates, and reminders to employees via Microsoft Teams or Slack channels based on group preferences.
Pulse Surveys:

You can use it to conduct quick feedback surveys on employee sentiment on key satisfaction questions via Microsoft Teams or Slack channels based on group preferences.
Pros:

It keeps the "human" in HR tech by combining natural conversational technology with a database of common HR questions and answers curated by experts.

It helps track employees' engagement, sentiment and needs through push messaging and pulse surveys.

It saves time, resources, and money by reducing the volume of help desk tickets, emails, and inquiries by

60-70%
Cons:

Mainly aimed at companies that use Slack or Microsoft Teams.

It may be unable to handle complex or uncommon questions requiring human intervention or judgment.

You may need some help with some technical issues or glitches.
Benefits of Using HR Chatbots
There are several benefits of using HR chatbots in the workplace. Here are some of them:
Improved efficiency
HR chatbots can handle repetitive and routine tasks, such as answering frequently asked questions and scheduling interviews, allowing recruiters and HR team members to focus on more complex and strategic tasks.

For example, Humanly.io can automate the screening process for job applicants, reducing the time and effort required by HR staff to review each application manually.
24/7 availability
It's nearly impossible for a human recruiter to be available 24/7, giving another edge to HR chatbots. These AI-based recruiting bots assist employees and candidates at any time of the day, even outside of regular business hours. This naturally improves the overall experience for all parties involved.
Increased accessibility
Candidates and recruiters alike can access HR chatbots through multiple channels, including messaging apps and voice assistants. This makes it easier for all parties involved to interact with them using their preferred method of communication.
Personalized recruiting experience
You might have a preconceived notion about how a chatbot would converse in a crisp, robotic tone. However, these HR chatbots are smarter than that.

Most conversational recurring chatbots provide personalized responses based on the user's profile and history, creating a more engaging and relevant experience for each individual.

For instance, Paradox's bot Olivia, can provide tailored responses based on the job candidate's profile and experience.
Faster response times
HR chatbots can respond immediately to inquiries, reducing the time and effort required for employees and candidates to get the required information.

For instance, a chatbot can quickly respond to a job candidate's inquiry about the application process, reducing the candidate's waiting time.
Cost-effective
HR chatbots can help reduce the workload of HR departments, resulting in cost savings for organizations in terms of time and resources.

Overall, HR chatbots can help improve the efficiency, accessibility, and user experience of HR processes. This ultimately leads to greater productivity and job satisfaction for both candidates and HR professionals.
Key Features That Your Recruiting Chatbot Should Have
According to a study by Phenom People, career sites with chatbots convert 95% more job seekers into leads, and 40% more job seekers tend to complete the application.

Recruiting chatbots are becoming increasingly popular for automating the recruitment process and improving the candidate experience.

Here are some key features that your recruiting chatbot should have:

Screening and skills assessment:

Your HR chatbot shouldn't just be a conversation platform. To offer full-fledged talent acquisition capabilities, it should have candidate assessment tools to identify candidates' skills. It should also be capable of conducting preliminary screening and assessing candidates' qualifications, skills, and experience.
24/7 interaction:

According to

statistics

, a chatbot can automate up to 80% of top-of-funnel recruiting activities. Your HR chatbot should be able to do the same. It should also be able to engage with candidates anytime and provide instant and accurate answers to their frequently asked questions (FAQs) about the job opening, company, benefits, etc.
Job Search and Application:

Your recruiting chatbot should be able to assist candidates in searching for job openings and guiding them through the application process.
Integration with Applicant Tracking System (ATS):

The chatbot should be able to integrate with your ATS to provide a seamless recruitment experience for candidates and recruiters.
Data insights and analytics:

Recruiting suitable employees for your company requires in-depth data before you come to any conclusion. Naturally, the recruiting chatbot software you plan to use should provide real-time data on candidate usage patterns, question trends, sentiment analysis, etcetera.
These features can help you improve your recruiting process using a chatbot. However, depending on your specific goals and challenges, you may need more or fewer features than these.
Questions to Ask Vendors on Demos
Here are some questions to ask vendors during demos when buying an HR recruiting chatbot:

How can your chatbot help improve the candidate experience? For instance, ask whether their chatbot can provide candidates with quick and personalized responses to their questions and status updates on their applications. Most importantly, does it guide them through the recruitment process?
What types of recruitment tasks can the chatbot automate? Can it automate tasks like resume screening, interview scheduling, and answering FAQs?
How does the chatbot integrate with our existing recruitment process and technology stack? Ensure it integrates with your existing applicant tracking system (ATS), recruitment website, and other HR technology platforms.
What's the level of customization for the chatbot to meet our specific business needs? Does it provide customization options for chatbot responses and conversation flows?
What data and analytics can we expect to receive from the chatbot, and how can we use it to improve our recruitment process? Ask whether the chatbot can provide data on candidate engagement, recruitment metrics, and user feedback.
What is the setup and deployment process for the chatbot?
What training and customer support do you provide for our team to use and manage the chatbot effectively? Does it include ongoing technical support?
How does the chatbot handle multi-lingual and global recruitment needs?
How does the chatbot ensure data privacy and security for both the company and the candidates? Does it have data retention and deletion options to ensure that candidate data is handled appropriately?
Can we integrate the chatbot with our existing applicant tracking system (ATS) or other HR technology platforms?
These questions should help you evaluate the capabilities and suitability of the chatbot for your specific recruitment needs.
Common FAQs
An HR chatbot is an artificial intelligence (AI) powered tool that can communicate with job candidates and employees through natural language processing (NLP). They also help with various HR-related tasks, including recruitment, onboarding, interview scheduling, screening, and employee support.

What are the benefits of using an HR chatbot?

HR Chatbots are great for eliminating the need to call HR, saving time, and reducing overhead. They also help improve candidate and employee experience, reduce human error, provide personalized assistance, and streamline HR processes.

What kind of HR-related tasks can an HR chatbot assist with?

An HR chatbot can assist with various HR-related tasks such as answering frequently asked questions, scheduling interviews, providing feedback on job applications, providing onboarding support, and assisting with employee inquiries.

Can an HR chatbot replace human HR professionals?

The answer is: It depends. A chatbot can answer questions and give advice, but it cannot make decisions on behalf of a human.

An example where this could become an issue is when an employee has a disability or other issues with their work performance. They may need individualized instruction to help them improve their performance. To do this successfully, human interactions are essential – both with the employee and between the employee and HR.

What are the limitations of using an HR chatbot?

While HR chatbots can imitate human-like conversation styles, it's still incapable of overcoming issues like complex or nuanced inquiries, language barriers, and the potential for technical glitches or errors. It's important to consider these limitations beforehand and provide appropriate user support to connect with new hires.

Do HR chatbots conduct personality tests and evaluate soft skills?

Yes, many HR chatbots can conduct personality tests and evaluate soft skills. These chatbots can use in-depth assessments to evaluate a candidate's personality traits, communication skills, and problem-solving abilities.
Pitfalls to Avoid When Buying HR Chatbot Software
It's clear that now is the time for HR professionals to start looking into how they can implement a chatbot in their organization.

However, there are several pitfalls to avoid when buying HR chatbot software. Here are some of them:

Failing to define your requirements:

Before shopping for HR chatbot software, you need to define your requirements. This includes understanding what tasks you want the chatbot to perform, what type of data you want it to collect, and what kind of interactions you want it to have with users.
Failure to consider language and cultural differences:

You may want to use your HR chatbot software to hire employees from different parts of the world who speak different languages and have different cultural backgrounds. It's important to ensure that the chatbot can understand and respond to users in different languages and in a culturally sensitive way. For example, a chatbot designed for an American audience may not work well for an Asian audience.
Lack of training and support:

No matter how user-friendly the tool is, implementing it requires training and support for both employees and HR staff. If the software company fails to provide adequate training and support, it may lead to poor adoption rates and low user satisfaction.
Lack of scalability:

Your HR chatbot should be able to scale with the organization's growth and changing needs. Failure to choose a scalable chatbot can result in having to replace it with a more expensive solution in the future.
Not considering integration:

Your HR chatbot software should be able to integrate with your existing HR systems, such as your HR management system (HRMS) or applicant tracking system (ATS). This will ensure the chatbot can access the necessary data and perform the required tasks.
Disregarding data privacy regulations:

HR chatbot software may collect and store sensitive employee data, such as performance evaluations and medical information. Considering this, it's important to ensure that the tool complies with data privacy regulations like GDPR or CCPA.
Revolutionizing Recruitment!
In conclusion, HR chatbots are becoming increasingly popular for their cognitive ability to streamline and automate recruitment processes. These chatbots have the potential to identify the best candidates for a given job, evaluate their job performance, and take care of talent assessments and the employee onboarding process.

While numerous HR chatbots are available in the market, the best ones are customizable, scalable, and integrated with existing human resources systems. After all, it's essential to find a chatbot that fits your organization's specific needs, so you can maximize its potential and achieve your recruitment goals.

With the right AI-powered chatbot, your organization can stay ahead of the competition, attract top talent, and build a successful workforce for years to come.